We are a registered charity and rely heavily on Donations.
Our activity income stream is nominal and barely covers direct operating costs.  Grants and sponsors help with capital items but to fund the maintainance, training, service and registration costs we look to donations.
With our new programme for disadvantaged youths, there is no income stream and it will have to be funded from donations.  This is a very important part of helping these youths and society by providing camaraderie, role modelling and self-fulfilment that sailing offers in building better lives.
Please help us with a tax deductible gift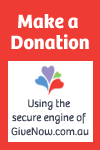 thank you.