We totally depend on donations of cash, fund raising events, sponsorship from both private and local comunuity businesses and grant applications.
Grants from organisations, state and local government and sponsorship support from the local community over the past few years has helped tremendously with capital items and safety equipment.
However, the funding for general maintenance, training service and registration costs, we look to donations.
If you would like to support us by monetary donation, services or merchandise, please contact us so that we can discuss something that will help us both.  We welcome donations from all areas of the community.  Donations may be made anonymously or, if you prefer, arrangements can be made regarding recognition of significant contributions.
Ways you can help and donate:
1) Please help us with a tax deductible gift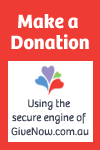 thank you.
2) As an active supporter of Containers for Change – you can donate your recyclable items to us by using this account:  C10153846