For Participants – Sailability Whitsunday offers and operates with: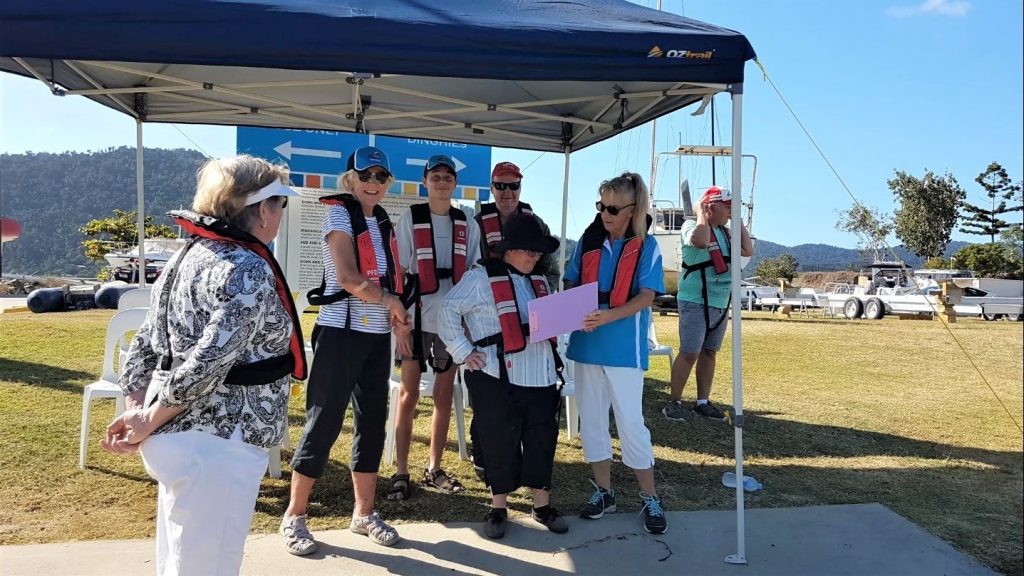 safe and positive environment – fun filled sessions
updated covid safe accredited plans- in conjunction with the Whitsunday Sailing Club
Queensland government guidelines -approved risk assessment plans
emergency procedures
disabled /wheelchair friendly toilet facilities
all safety equipment
opportunity to access all boats – hoist facilities
sailing sessions in stable boats or trip in our motor boat
skippers who encourage you to learn to sail and delivering basic sailing instructions
undercover areas for relaxation
first aid facilities/defibrillator availability
please refrain from mobile social media usage throughout day -as an outdoor activity
Costs:
$10 participation fee – includes multiple sails when applicable
$2 onion & sausage sizzle (when available)
$2 soft drinks
Free tea / coffee /chilled water (when available) – can fill own container All laughs, smiles, jokes – on the house!! Download Registration form NOW!!
Your Preparation:
Please NOTIFY US by SMS to 0499 835 111 by 6pm Friday evening prior to sailing day of your attendance -unless other arrangements pre-organised
We notify you by 7.30am on sailing day of cancellation due to weather
Please bring:
Sun glasses, hat, sunscreen, sun safe clothing, towel
Enclosed shoes or secure sandals (pontoon gets hot)
Water bottle and required special dietary needs
On arrival at the Whitsunday Sailing Club:
In car park – display disabled ticket (as Whitsunday Shire paid parking zone)
Requiring wheelchair or easier access with vehicle – ring SW for gate access to yard
Sailability Feather will determine our point of operation
Introduce yourself – a volunteer will assist with the completion of the attendance record sheet mandatory for all participants (Covid safe plan)
New Clients & Carers must complete a Client & Carer Registration Form
Inform the Officer of the Day of any special requirements/needs or useful information for boat skippers/ dock volunteers .We will try to accommodate all requests to the best of our ability.
A displayed whiteboard will indicate sessions, whereabouts of participants throughout the day, toilet information, other relevant communication
Please observe safety procedures – life jacket, sunscreen, protective footwear & hat, preferably sunglasses & UV clothing if have- is required at all times -carer and skipper to check all fitted before leaving for the pontoon
Carers to participate throughout the day helping the volunteers and participants in many varied tasks
Please bring change clothes if required
DO NOT hesitate to ask volunteers for information you may require
FEEL COMFORTABE AT ALL TIMES
For Carers –  Continual assistance by carers throughout the activity day – makes for a smooth sailing day!

We would like you to:
encourage and enhance the participants' experience during the day – take photos
reinforce "timing" to participant on tide dependent days -ensuring efficiency of preparation steps – being ready ASAP after arrival
prepare the participant for sailing -sunscreen hats, lifejackets, water etc. – before leaving for mustering area
help the volunteers with land and water tasks – supervising and reinforcing instructions in different areas
check if participants would like another sail and, if there is a vacancy, OOD will roster
please be ready to assist on the pontoon when boats return – as skippers stay with the boats
use this opportunity to take be part of your sailor's water experience monitor the participants whereabouts at all times – as other Sailing Club activities may run simultaneously and toilet assistance may be necessary (access code)
be aware of emergency procedures / first aid requirements – Duty of Care communicate medical information -which may assist skippers /volunteers (we keep this confidential)
ask questions to help clarify anything you may not be aware of
offer ideas that may help improve our service to allstay on site for the duration for welfare/duty of care (arrangements can be made with prior knowledge if circumstances differ)
support participants' usefulness by encouraging them to assist with tidying before leaving
check they have all belongings when waving goodbye for the day
From all of us at Sailability Whitsunday, hope to see you and looking forward to your participation!
Before you go, we'd like you to take a few minutes to watch this video about the experience of joining us at Sailability